Marian Xiao
'Hyperactressity'
Actor - director - author
Born: Mary Anna Xiao, Seattle, WA, August 3, 1945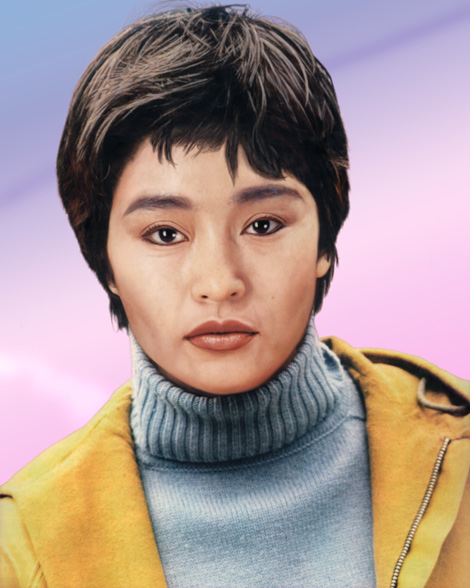 Marian Xiao in 1978, age 33
Digital painting, glossy archival C-print, 10x8" / 25x20cm, 2000
Edition: 10 (+ 5 AP)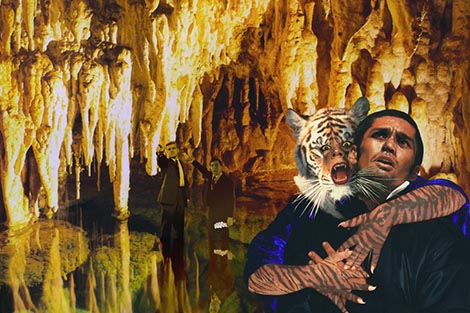 Marian Xiao and Michael Okada in 'Elsa, The Sardonic Vampire' (men)
Also in the picture: Robert Redford and Dustin Hoffman
Digital painting, archival C-print, cibachrome, 26x39" / 66x99 cm, 2000/2004
Edition 3 (+ 1 AP)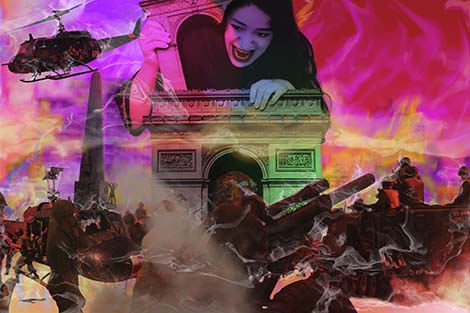 Marian Xiao in 'Medina Queen of Evil' (triomphe)
Digital painting, archival C-print, cibachrome, 26x39" / 66x99 cm, 1998/2004
Edition 3 (+ 1 AP)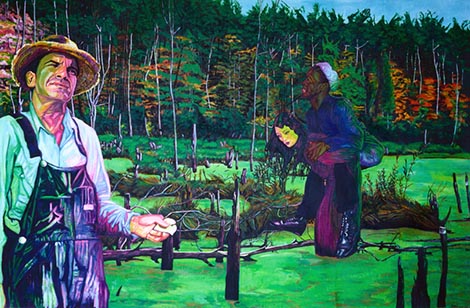 Marian Xiao and Thomas Kirby in 'Poison Lily of the Swamp' (green swamp)
Also in the picture: Martin Landau
Acrylic on canvas, 57x84" / 115x150 cm, 1997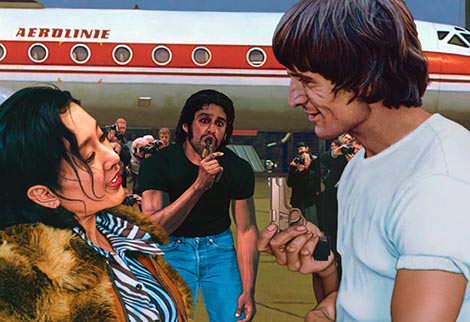 Marian Xiao and Michael Okada in 'Hell in Heaven' (talk)
Also in the picture: Robert DeNiro
Digital painting, archival C-print, cibachrome, 25.5x37.5" / 65x95 cm, 1999
Edition: 3 (+ 1 AP)

In Try Or Die (1987) Marian Xiao played the scandalized talk-show host Kitty.



Marian Xiao in 'Try or Die' (talkshow)
Digital painting, archival C-print, cibachrome, 8x10" / 20x25cm, 1994
Part of a set of 4 stills
Edition 5 (+ 1 AP). 1/5: private collection, Rotterdam (NL)
Also: Archival C-print, cibachrome, 31.5x39.33" / 80x100 cm, 1994
Edition 1 (4 separate scenes)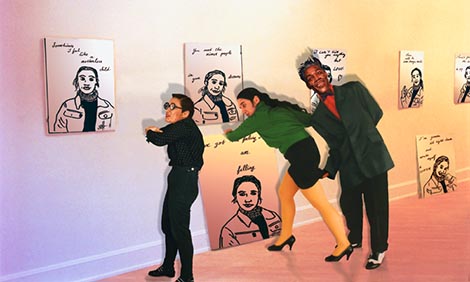 Thomas Kirby and Marian Xiao in 'The Mouse Museum' (gallery scene)
Digital painting, archival C-print, cibachrome, 29.5x49.25" / 75x125 cm, 1996
Edition 3 (+ 1 AP): 1/3 private collection, Italy; 2/3 private collection, Italy; 3/3 private collection, The Netherlands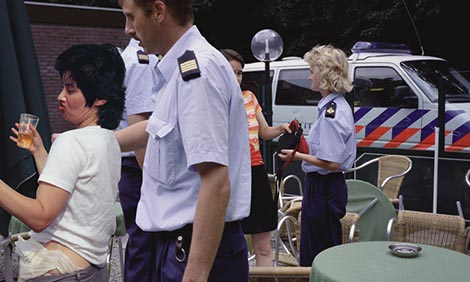 Marian Xiao in 'Red Robbie, The Act Behind the Scenes' (Pleunie, the local)
Digital painting, archival C-print, cibachrome, 23.6x39.4" / 60x100 cm, 2003
From a series of 36 works. Public art commission: Police Department IJsselland and SKOR Public Art Foundation, The Netherlands

Marian Xiao is the daughter of the Hollywood cinematographer, Harry Xiao, and the well-known, abstract expressionist painter, Lise Ng. Her grandmother, Una May Xiao, was a stage actress in the San Francisco Chinese Theater; her other grandmother, Li Chen Ng, an opera singer likewise from San Francisco. Her parents divorced in 1955 and Marian shared time between her dad in Los Angeles and her mom in New York City. In 1961 Marian joined the repertory theater Player's Ring in LA and made furore with her interpretation of Lady Macbeth. Standing a tiny 5'2", this ballsy lady, Marian Xiao, boldly has reversed everything female acting ever stood for and she is most popular for the ingenious blend of high-comedy, ripping yarn and passionate romance in her films. The gossip columns never stop short of discussing Marian Xiao's tempestuous love life. Marian Xiao has three marriages behind her belt. She has two children from her second marriage.

Marian Xiao first unveiled her talents in the Corman/ Arkoff B-pic circuit, which gave birth to four cult classics, including Elsa, The Sardonic Vampire (1965) and Medina, Queen Of Evil (1965). Many unforgettable films and performances would follow, like The Curse Of The Nurse (1965), Spunky Sue And Honest Orville (1969) and Poison Lily Of The Swamp (1970). The latter is a sensual tale loosely based on Carson McCullers' The Ballad Of The Sad Café and the role of the sturdy, but betrayed Miss Amelia gained Marian Xiao, by now a sizzling hot property in Hollywood, her first best actress Oscar. I Believe (1978) ('Excuse me, darlings, in myself!') is Xiao's biting parody on the comeback of a washed-up diva, which won her a second Academy Award. Medicareless (1999) won her her third Oscar for her impressive role as the trusting, old lady. Marian Xiao is also a prodigious director and who often also stars in her own films.
Selected Filmography
1964: The Awkard Age
1964: Never Marry In Haste
1965: Elsa, The Sardonic Vampire
1965: Lotte, The Looney
1965: Medina, Queen Of Evil
1966: Nutruk, The Hunched Urchin
1966: The Curse Of The Nurse
1967: Crossing The Line Into The Danger Zone
1967: The Confidence Game
1968: Zoom Out
1968: Golden Mountain
1968: A Brother's Agreement
1969: Spunky Sue And Honest Orville
1969: The Obsession of Youth
1970: Poison Lily Of The Swamp
1972: Lady Macbeth
1972: Rocky Mountains
1973: Apostates
1973: If The Boss Won't Say Please!
1974: A Bagful Of Trash
1975: All Over Town
1977: Swing Of The Torch
1978: I Believe
1979: Hell In Heaven
1980: Relative Connection (+ director)
1982: All Wrapped Up (+ director)
1984: Suite Aloha
1986: Ask Me Another (+ director)
1987: Sugarface
1987: Try Or Die
1988: Fraternity Forever
1989: Soldier Fortuna
1990: Medicareless
1992: Milano! Créteil! (+ director)
1994: The Color Green
1994: Male Customer
1995: Block Amok (+ director)
1996: The Mouse Museum
1996: Mom Is The Word
1998: Crimes Without Punishment (director only)
1999: Seventeen At Forty (+ director)
2001: The Baron of M (+ director)
2002: Miss Property
2002: Slaves of Solitaire (+ director)
2003: Red Robbie: The Act behind the Scenes
2003: Boris and Bodil
2009: Mr. Wonderboard (+ director)
2010: The World of Ism