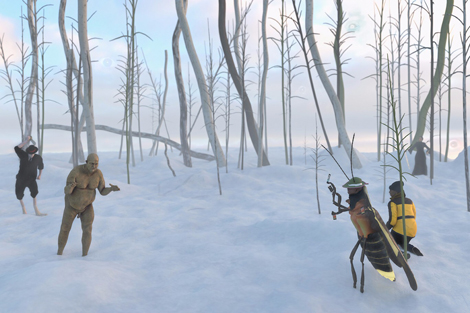 Jeni and Naomi Wright, Pete Banich, Charlie Pep and Forough Amirshahi in 'The Ghost of Val Sinestra'
Digital 3D art, C-print on fine art paper, Cinema 4D, ZBrush, Substance Painter, Arnold for Cinema4D, Photoshop, 13x19" / 33x48cm, 2017
Edition 3 (+ 1AP) © Elise Tak, 2017

Elise Tak is a visual artist based in Brooklyn, New York. In her art she blends day-to-day reality with cinematographic fiction. She uses the imagery of film and popular culture to create a rich fictional and visionary world, while at the same time discussing contemporary, socio-political issues. It is an intricate play between reality and fiction, between life and art, because whereas in the movies, real living actors create a false existence, in Tak's work even these actors are pure fiction. Elise Tak works in both traditional and modern, digital media. Her most recent 'characters actors' are built with a revolutionary 'character creation script', the Dolly Project, developed especially for her and in collaboration with the Italian Renderking.
More info and full artist statement: click bio & statement.
Learn more about Elise Tak's character actors: click character lounge.
Current and recent shows and events: click news.




A New York State of Mind (Stories from the unusual suspects)
Exhibition in De Cacaofabriek, Helmond, The Netherlands
September 2 thru October 14, 2018
Curated by: Elise Tak (head curator) and Marvin Piqué (assistant curator)
Featuring artists and artist projects from New York: Cacao Marciano (Martian Chocolate), Mary Chang, Joe Gilmore, Rick Krieger, The Madness of Art (Jim Kempner), Arlene Rush, Bishakh Som, Patricia Lee Stotter & Mark Pinto, Hendrika Ter Elst, John Tomlinson, Osaretin Ugiagbe, Marvin Piqué, Elise Tak.