Charlie Pep
'Peppered Punk'
Actor - author
Born: David Jacob Vandenbergh, Brooklyn, NY, June 15, 1969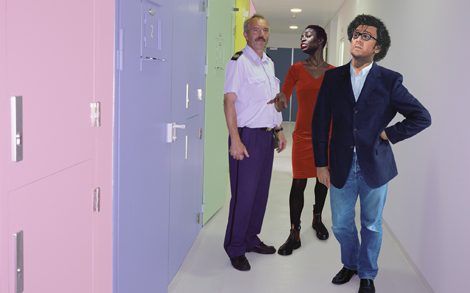 Charlie Pep (right) & Jeni Wright in 'Red Robbie, The Act Behind the Scenes' (quest)
Digital painting, cibachrome behind plexiglass, 30.75x49.25" / 78x125 cm, 2003
From a series of 36 works. Public art commission: Police Department IJsselland and SKOR Public Art Foundation, The Netherlands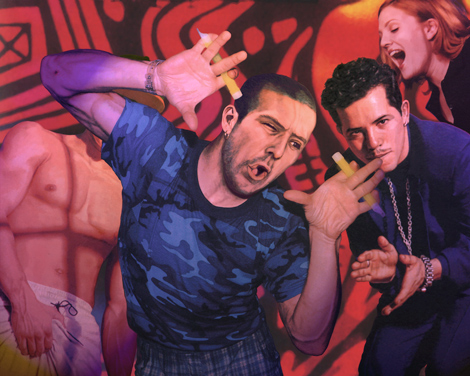 Charlie Pep in 'DeeJay' (disco dance)
Also in the picture Mark Wahlberg, John Leguizamo and Drew Barrymore
Digital painting, archival C-print, cibachrome, 28.33x35.5" / 72x90 cm, 1997
Edition 3 (+ 1 AP). 1/3: private collection, The Netherlands; 2/3: private collection, The Netherlands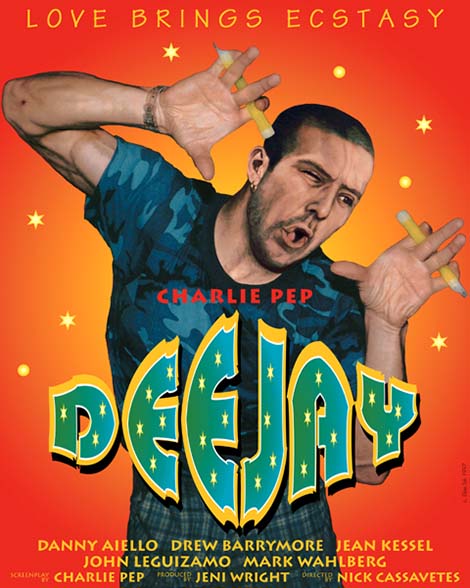 Charlie Pep in 'DeeJay' (poster)
Digital painting, archival C-print, cibachrome, 50x40" / 127x102 cm, 1997
Graphic design: Liesbeth Nieuwenweg
Edition: 3 (+ 1 AP)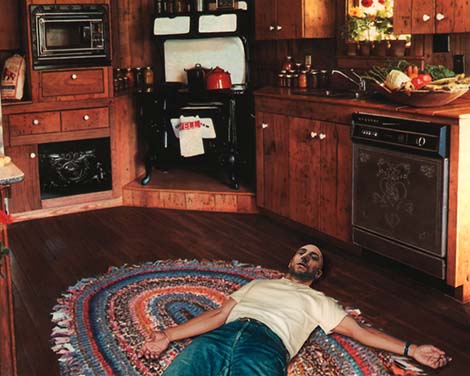 Charlie Pep in 'DeeJay' (OD)
Digital painting, archival C-print, cibachrome, 28.33x35.5" / 72x90 cm, 1997
Edition 3 (+ 1 AP)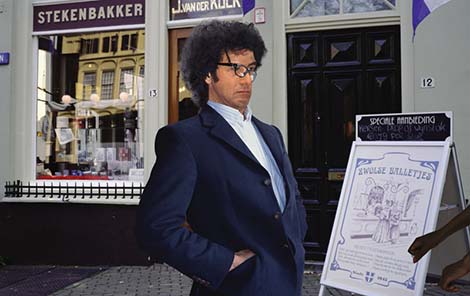 Charlie Pep in 'Red Robbie, The Act Behind the Scenes' (Zwätzl shivers)
Digital painting, archival C-print, cibachrome, 24.8x39.4" / 63x100 cm, 2003
From a series of 36 works. Public art commission: Police Department IJsselland and SKOR Public Art Foundation, The Netherlands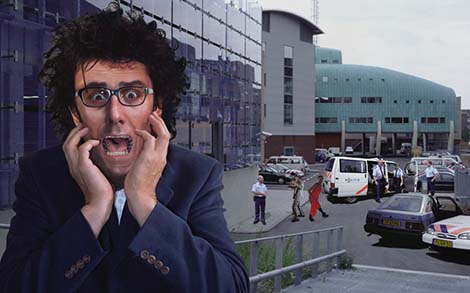 Charlie Pep, Roy Rebergen and Jeni Wright in 'Red Robbie, The Act Behind the Scenes' (scream)
Digital painting, archival C-print, cibachrome, 42.5x68" / 108x173 cm, 2003
From a series of 36 works. Public art commission: Police Department IJsselland and SKOR Public Art Foundation, The Netherlands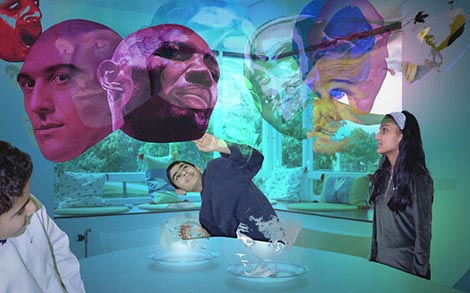 Marvin Dunbar and Charlie Pep in 'The Principal Head' (re-assembly)
Digital painting, archival C-print, cibachrome, 30.75x49.25" / 78x125 cm, 2003
From a series of 27 works. Public art commission: elementary school 't Palet and Stroom Den Haag, The Hague, The Netherlands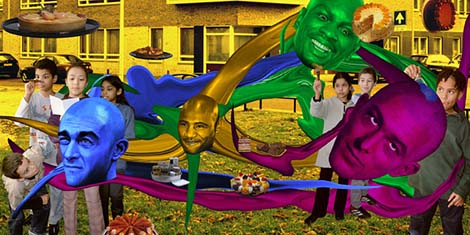 Marvin Dunbar and Charlie Pep in 'The Principal Head' (food for thought)
Digital painting, archival C-print, cibachrome, 40.8x78.75" / 100x200 cm, 2003
From a series of 27 works. Public art commission: elementary school 't Palet and Stroom Den Haag, The Hague, The Netherlands

The unlikely movie star, Charlie Pep, was born David Jacob (D.J.) Vandenbergh. He was raised by his single mother, Betsy Halberstadt, a professor of international law at Princeton, originally from Germany. His father, Jack van den Bergh, a photographer, is Dutch. At 19 Charlie began acting. In 1993 his first movie scene ended up in the cutting room floor, since he and his best friend, Roy Rebergen, could be seen slinging their privates at college campus sunbathers. In the early nineties he joined the repertory theater group, Flasch, and he costarred opposite Liz Dean and Anita Carbajal in prestigious productions such as One Bathroom Sock; If He's Drunk, Run, Run, Run; Sexual Perversity In Chicago and The Dragon and the Faceless Woman. He won the Obie Award as best off-Broadway actor of 1994 for his performance in The Apology Of A Coward. The year 1996 was Charlie Pep's seminal year. A controversial documentary, Stick It Up Your Ear, about the violent Yonkers youth named Charlie Pep shocked the nation because of the sickeningly unrepentant behavior of this nasty kid. But soon the world would be in for another shocker: The documentary had been all make-believe! From this day on Charlie adopted the name of Charlie Pep as his artist's name.

The hypersonic flic, DeeJay (1996) really catapulted Charlie Pep to stardom. DeeJay is a really cool dude, who wants to be an ahead-of-the-game DJ, but is hung up too much on smart pills, mushrooms and space parties. Moreover, what is wrong with him? Well, for one, his out of touch, overdevoted mom. No, no, DeeJay forever will be a….. bum! The actor Charlie Pep is a great perfectionist. The person Charlie Pep is extremely shy and introverted and mostly has been evading publicity. For some years now Charlie Pep and actress/director Jeni Wright are a hot item and they have a cute daughter, Maxi.
Selected Filmography
1995: The Apology Of A Coward
1995: Stock Option
1996: Stick It Up Your Ear
1996: DeeJay
1997: Class Actors
1998: The Great Teco = Noughts + Zeroes x Ciphers
1999: Sweet Machito
2000: Filial Law
2001: The Pulitzer Boy
2002: Slaves of Solitaire
2003: Red Robbie, The Act behind the Scenes
2003: The Principal Head
2004: Completely Dressed Nudes
2005: Cursed Coronet
2006: Victor!
2006: Virtual Utopia
2007: The Peace Geek
2008: Reeling 'n Dealing
2008: The Baby Dailies
2010: The World of Ism
2011: The Spirit of Saturn