Jeni Wright
'Bold, Witty, Regal and Raw'
Actor - director - author
Born: Jeni Wright, Chicago, IL, August 3, 1961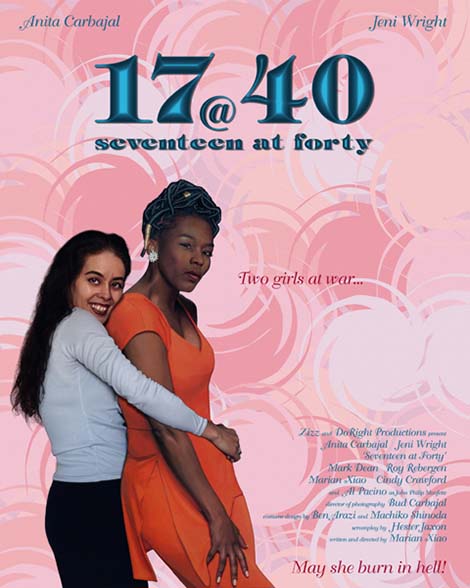 Jeni Wright (right) and Anita Carbajal in 'Seventeen at Forty' (poster)
Digital painting, archival C-print, cibachrome, 50x40" / 127x102cm, 1999
Graphic design: Liesbeth Nieuwenweg
Edition 3 (+ 1 AP)



Jeni Wright in 'The Spirit of Saturn' (Medubis)
Digital 3D sculpture/painting, archival C-print on dibond, 23.5x21" /60x52.5 cm, 2012
Galerie Vivid edition 3 (+ 1AP)
Also available as collectors' item T-shirt design for Sequoia Tees, silkscreen on t-shirt
Edition 100 (sold: 1/100, 3/100, 4/100, 11/100)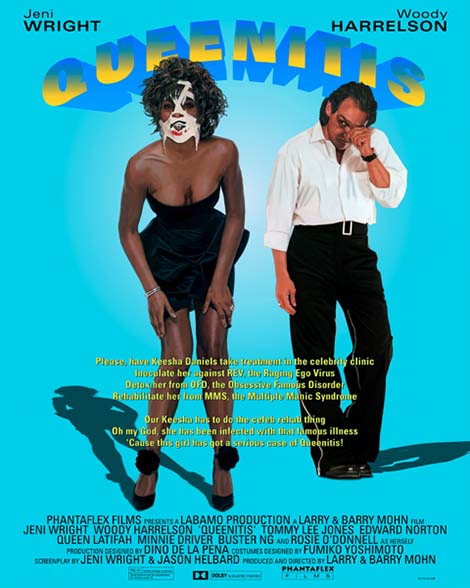 Jeni Wright in 'Queenitis' (celebrity clinic)
Also in the picture: Woody Harrelson
Digital painting, poster #3 from set of 3, archival C-print, cibachrome, 35.5x28.33" / 90x72 cm, 1998
Graphic design: Liesbeth Nieuwenweg
Edition 3 (+ 1 AP)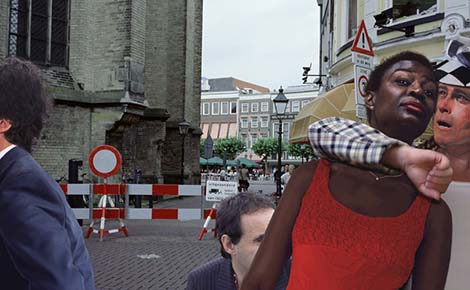 Charlie Pep, Jeni Wright and Roy Rebergen in 'Red Robbie, The Act Behind the Scenes' (hot pursuit)
Digital painting, archival C-print, cibachrome, 42.5x69" / 108x175 cm, 2003
From a series of 36 works. Public art commission: Police Department IJsselland and SKOR Public Art Foundation, The Netherlands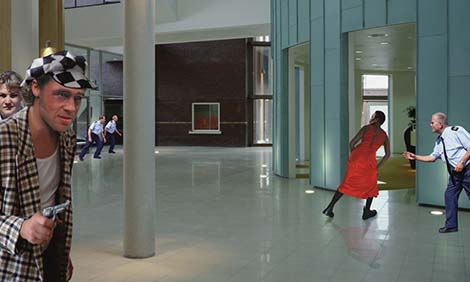 Roy Rebergen and Jeni Wright in 'Red Robbie, The Act Behind the Scenes' (chase, part 1)
Digital painting, archival C-print, cibachrome, 41.33x69" / 105x175cm, 2003
From a series of 36 works. Public art commission: Police Department IJsselland and SKOR Public Art Foundation, The Netherlands

Jeni Wright was born in Chicago's tough K-town. The destitute family of nine (six girls and three boys) was raised mainly by their firm, Jamaican grandmother, Bertha Dunbar, and their mother, Sena Koundé, from the West African state of Benin, who over the years worked her way up from nurse to neurologist. Jeni has a twin sister, the jazz trumpeter, Naomi Wright-Koundé. Jeni Wright started her career as a stand-up comedian in Chicago's Zanies, moved to the adjacent Second City, broke through at the Apollo's Comedy Night and regularly appeared at the Comic Strip on Second Avenue. In 1990 she had her own TV-show on NBC, which was cancelled after four showings. In her first role we see Jeni quibbling with Marvin Dunbar (her brother) in Know How (1989). TV work came in the form of guest roles on St. Elsewhere (1988), In Living Color (1990) and Saturday Night Live (1991) and in the TV film about civil rights in the 1950s, I'll Fly Away (1991). Jeni Wright made her first indelible impression as a movie actress alongside Thomas Kirby and Dustin Hoffman in Mojo Poppie And Switchboard Momma (1991).
Jeni Wright always has distanced herself from the 'fame game' as she likes to keep a low profile, but when she comes into the room her presence is felt. Like her brother Marvin Dunbar she can breathe fire, be explosive, infuriated and menacing. Her personality seems to be a perfect balance between regality and rawness. On the other hand she seems sensible, straightforward, tender and earthy. Jeni is the consummate professional as she intensely prepares for roles and always is on the set on time. Her acting style is a splendid mix of economy, bristly wit and daring. One of her grooviest performances came with the obsessively famous celebrity, who suffers from a serious spell of Queenitis (1996). Her latest film, The Spirit of Saturn (2011), is fairy tale about mankind's mortal misconceptions around divinity and mythology, in which she stars opposite Charlie Pep and Roy Rebergen. Jeni Wright is the also the producer and director of some pulsating, ultramodern films: Virtual Utopia (2000); The World Of Ism (2001); and The Principal Head (2003).
In 1991 Jeni Wright and Mark Hart sealed their longtime relationship with marriage and in 1994 the two became the proud parents of baby daughter, Itylima. In 1999 the marriage was dissolved. Since 1996 Jeni Wright has been dating the actor Charlie Pep and in 2000 they had a daughter, Maxi.

Selected Filmography
1989: Know How
1992: Mojo Poppie And Switchboard Momma
1993: The Merry Wimp From LA
1993: Fly Me To The Moon
1994: Breath, Eyes, Memory
1995: Kiss Off
1995: Block Amok
1996: Seas of Bounty
1996: Queenitis
1997: Class Actors
1997: Crackers
1998: A Pilgrim's Temptress
1999: Bel Heir
1999: Seventeen At Forty
2000: Mobile Mummy
2001: Violets and Petunias
2002: Miss Property
2003: Red Robbie: The Act behind the Scenes
2003: The Principal Head (director)
2004: Two by Two
2005: Cooler Furnace
2006: Virtual Utopia (+ director)
2010: The World of Ism
2011: The Spirit of Saturn