Marvin Dunbar
'The Guerrilla Genius'
Actor - director - author

Born: Marvin Wright, Chicago, IL, August 14, 1954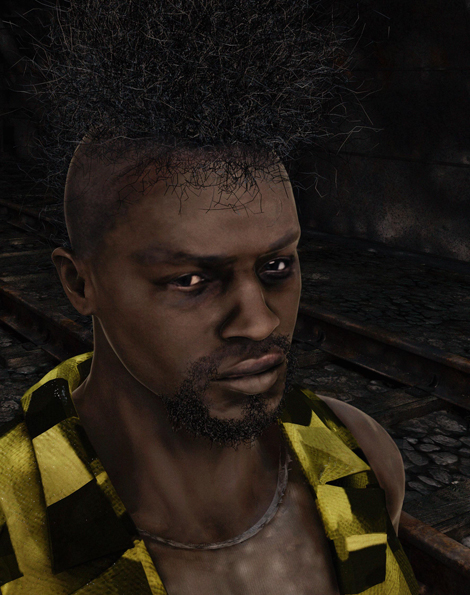 Marvin Dunbar in 'Pent Up' (Green Peaz underground portrait #1)
Digital 3D sculpture/painting, glossy archival C-print 6x7.5" / 15x19 cm, 2013
Edition 5 (+ 1AP)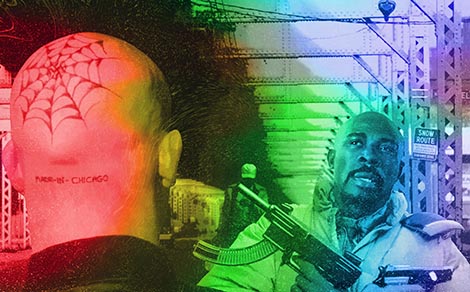 Marvin Dunbar and Roy Rebergen in 'American Pride' (gatekeepers)
Digital painting, archival C-print, cibachrome, 27x43" / 68x 110 cm, 2004
Edition 3 (+ 1 AP)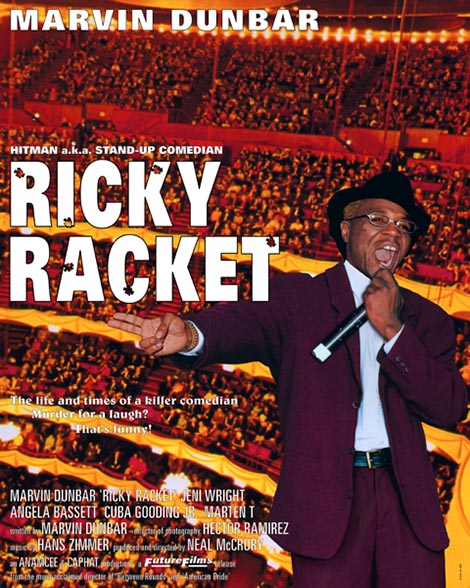 Marvin Dunbar in 'Ricky Racket' (poster)
Digital painting, archival C-print, cibachrome, 50x40" / 127x102cm, 1999
Graphic design Liesbeth Nieuwenweg
Edition 3 (+ 1 AP). 1/3: collection Museum Helmond, The Netherlands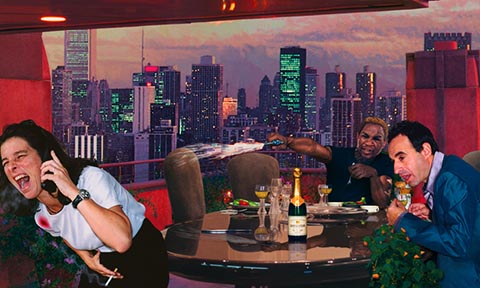 Marvin Dunbar in 'Ricky Racket' (table manners)
Digital painting, archival C-print, cibachrome, 24x40" / 61x102cm, 1999
Edition 3 (+ 1 AP). 1/3: collection Museum Helmond, The Netherlands



Thomas Kirby and Marvin Dunbar in 'The Mouse Museum' (video installation)
Also in the picture: Jodie Foster
Digital painting, archival C-print, cibachrome, 29.5x49.25" / 75x125 cm, 1996
Edition 3 (+ 1AP)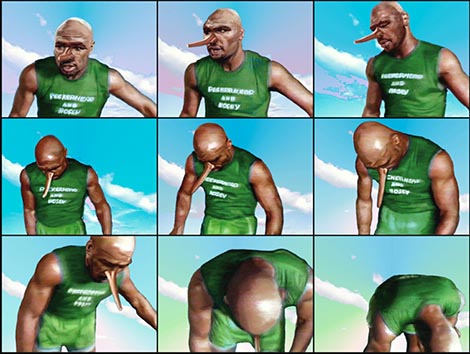 Marvin Dunbar in 'The Mouse Museum' (Peckerhead nosey)
Digital painting, archival C-print, cibachrome, 19.5x23.5" / 50x60 cm, 1996
Edition 3 (+ 1AP)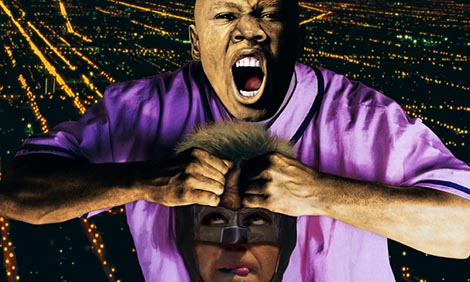 Marvin Dunbar and Roy Rebergen in 'Burgaman' (maskerade)
Digital painting, archival C-print, cibachrome, 24x40" / 61x102 cm, 2000
Edition 3 (+ 1 AP)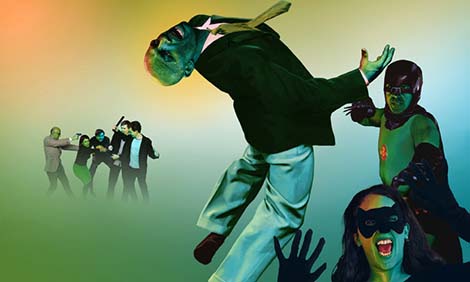 Marvin Dunbar, Roy Rebergen and Anita Carbajal in 'Burgaman' (crime)
Digital painting, archival C-print, cibachrome, 24x40" / 61x102 cm, 2000
Edition 3 (+ 1 AP)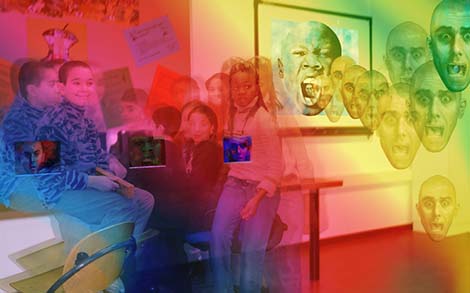 Marvin Dunbar and Charlie Pep in 'The Principal Head' (heading out)
Digital painting, archival C-print, cibachrome, 30.75x49.25" / 78x125 cm, 2003
From a series of 27 works. Public art commission: elementary school 't Palet and Stroom Den Haag, The Hague, The Netherlands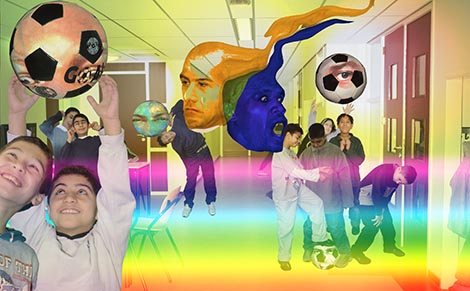 Marvin Dunbar and Charlie Pep in 'The Principal Head' (mindgames)
Digital painting, archival C-print, cibachrome, 30.75x49.25" / 78x125 cm, 2003
From a series of 27 works. Public art commission: elementary school 't Palet and Stroom Den Haag, The Hague, The Netherlands

One critic described the ubiquitous Marvin Dunbar as follows: 'Watching Mr. Dunbar is like watching an eruption of mount Vesuvius. Beautiful and dangerous'. For three decades now Marvin Dunbar's frenzied, hyperenergetic screen persona has electrified audiences worldwide for its dauntless intensity and genius. The private man Marvin Dunbar does not seem at peace. His loves do not last longer than two years at the most and he has lived in all corners of the States, Canada, France and Italy. Marvin's dress-style has set trends all over the world, such as the seemingly random pluck of hair on his right cheek and the baseball caps carrying varied wordplay on his own name (Marvy Marv, Top of the Marvman, seXrated Marv). Marvin Dunbar likes to see how far he can go in overstating his own sta rimage, all with a healthy dose of humor, Though his overblown cockiness has won him loads of fans, on several occasions it has brought him into trouble with the law and with the Ku Klux Klan. Food undeniably is Marvin Dunbar's favorite topic of conversation.

Marvin Dunbar was born Marvin Wright on Chicago's Westside in 1954. He is the brother of actress Jeni Wright. In 1968 his father, Marlon Wright Sr., an alcoholic bookmaker/loafer, left the household for good. All in all, 1968 was a tragic year for Marvin as two of his brothers were killed, one in Vietnam and the other in a gangland war, and Marvin himself was arrested during the Chicago riots. In 1973 Marvin was jailed for being a conscientious objector. In 1974 Marvin moved to New York and adopted his paternal grandmother's surname, Dunbar. After he was the recipient of the Bridge grant in 1977, he joined the Joseph Papp theater and gained quite some attention with the staging of The Taking Of Miss Janie. He returned to his hometown of Chicago while guesting with The Steppenwolf Theater. When Papp decided that this streetpunk Dunbar could be a perfect Richard III, Dunbar's flashy performance struck in like a bomb in the theater world. The Marvman was ready for his screen debut, which came with Relative Connection (1980) opposite Marian Xiao and Thomas Kirby. From then on Marvin Dunbar has been unstoppable. Since the 1990s Marvin Dunbar has also asserted himself as a powerful director.
Selected Filmography
1980: Relative Connection
1980: Between Rounds
1981: The College Years Of Miss Lizzie
1982: Run First
1982: Pent Up
1983: The Blitz
1983: The Devil's Dust
1984: This Is A Dismal Scene
1985: My Country, My Beautiful People
1985: Miss Slender And Mister Tender
1986: With Reverence
1987: Sugarface
1987: That Man!
1989: Know How
1989: Matimba, The Anabole
1991: American Pride
1992: Ricky Racket
1993: Crack On The Wall (+ director)
1994: Chalky Shoes, Tarred Tissue
1995: Block Amok
1996: The Mouse Museum
1996: Seas of Bounty (+ director)
1997: Path of Fear
1998: The Great Teco = Noughts + Zeroes x Ciphers (+ director)
1999: Sweet Machito (+ director)
2000: Burgaman (+ director)
2001: Violets and Petunias (director only)
2003: The Principal Head
2004: Completely Dressed Nudes (+ director)
2006: Gloria Law (director only)i
2008: Le Chef Flambé (2008) (+ director)
2009: Mr. Wonderboard